Healing the stolen 12 months gestation period of true pregnancy: it was stolen the last 3 months yes because otherwise we would be walking giants here on our own Mother Earth thIS Gaia Library. (Dated August 24th 2020 to create a soul contact revocation/invocation for the 4 quadrants of gestation period:so here it is….
The invocation of my Twelve 12(4 FULL TRIMESTERS TO INCARNATE) . THIS PETITION IS ADDRESSED TO:TO PRIME CREATOR original gestation period in mother womb on sacred Mother Earth.
The pillars of divine architecture in accordance with multitude of the original blue prints of Supreme Prime Creator.
Here is what I think I know, OR understand, OR inner stand and or remember. Here bellow WRITTEN IN THE INK, is what I demAnd back:
Firstly my understanding: Earth has been moved several times from her original place of spaces. She has given herself injured to have life on her surface and inside of Her being.Which we know as hollow/inner earth. Earth went from seventh dimensional sentience to 3 D program of hologram, holographic animation of incarnations and re-incarnations. The INSERTION OF  a multitude of DISTORTED LIGHT DISTORTIONS. SOULS INCARNATING INTO THE BODY THROUGH PROCESS KNOWN AS THE SPERM AND EGG DNA/RNA WAYS RESULTING IN 9 MONTHS GESTATION PERIODS, DOESN'T EQUAL TO ORIGINALLY THOUGHT/INTENDED OF AS 12 MONTHS FULL GESTATION PERIOD. SO HERE THERE IS THE PROBLEM/HARM: I HAVE BEEN MISSING MY LAST = FORTH TRIMESTER. I DON'T KNOW WHAT IT WOULD BE LIKE SINCE I DON'T HAVE ANY WAY OF ACCESSING THIS KNOWINGNESS ONLY THE END RESULT CONSTANTLY FEELING UNFINISHED, SHORT OF SOMETHING, MISSING SOMETHING ETC., SO I WANT TO FIND THESE LAST 3 MONTHS THAT HAVE BEEN MISSING FOR …………….INCARNATIONS, WITH THE HELP OF EARTH MOTHER AND MY PLACENTA SPIRIT GUIDE(S), in my spiritual court of Equity.
WITHIN THIS PETITION TO PRIME CREATOR I REQUEST THE ORIGINAL BLUE PRINT FOR FULL ON 4 TRIMESTERS GESTATION IN MOTHER'S WOMB TO BE FULLY RESTORED, RECOVERED, REMEMBERED, RECEIVED, TO ME AS THE BIRTH RIGHT OWNER/HOLDER OF SUCH VEHICLE/TRANSIT POINT OF FULL LIGHT SPECTRUM OF MY I AM ORIGINAL FREE WILL SOVEREIGN SOUL INCARNATE.
I CALL VIA MY SPIRITUAL COURT OF EQUITY ONTO THE ASTRAL PLANES, GALACTIC CENTRAL SUN UNION AND COMMUNION OF THIS GALAXY AND ANY OTHER GALAXIES THAT I HAVE EVER EXISTED AT ALL FREQUENCIES OF TIME/NO TIME TO ASSIST THIS I AM BEING WITH MY REQUEST AT HAND. SO I MAY FULLY BE ABLE TO RECEIVE, USE, PRACTICE, CELEBRATE, UTILIZE THE FLUID INTELLIGENCE OF MY COMPLETE DNA/RNA STRANDS.
2) I THIS SECTION THIS PART OF MY LIFE I HAVE RECOGNISED THAT A MAJOR THEAFT OF MY LAST 4TH TRIMESTER(S) HAS BEEN COMMITTED  PERIODICALLY WITH/AT EACH INCARNATION WHICH HAS CAUSED ME TO WRITE THIS PETITION. IT MAY HAVE BEEN 4.000 fraud years ago and and or 11,6 million fraud years ago (AND I NOW FURTHER MAY REALISE THE COUNTING OF FRAUD TIME MAY BE A CODE FOR LAYERS OF LIGHT AUGMENT, CAUSING A UN-NECESSARY CORNERS WHICH DO NOT NORMALLY BELONG INTO THE SOVEREIGN UNIVERSE/YONIVERSE WHERE PRIME CREATOR HAS ITS SUPREME EXISTING-NESS  THUS I MAY ALSO QUESTION THE WHOLE THING/EVENT IN TERMS OF HOW MUCH HOW DEEP SUCH A THEAF THROUGH UN UNIFIED/UN-SOVEREIGHN TECHNOLOGY FOrRIGNER TO OUR HUMANITY ORIGINAL HUMANITIES DESTINY PURPOSE FREEDOM IN UTILIZING FREE WILL, THIS GOES.
I  SPEAK/WRITE ABOUT THE NOTION (instead of "nation") FALLS MIGRATION PATTERNS DISTURBING MY DNA/RNA SOUL FAMILY CONDUCT/ CONDUCTIVITY, RECIPROCITY WHICH NORMALLY BENEFITS THE ABILITY TO CREATE AND CO-create FREELY, BASED ON GENIES MANIFESTED OF SUCH FLUID INTELLIGENCE DNA/RNA CODES.3) AS FURTHER I AM REALIZING NOW, THE FORTH (4th) TRIMESTER MAY HAVE SOMETHING TO DO WITH THE SPIRIT BODY INTEGRITY/GROWN LIGHT. 4.  I REFUSE THE FALLS MIGRATIONS. OF SOUL LESS TECHNOLOGY INSERTING THEIR FINE PRINT INTO PLACES THAT BELONG SOLELY TO MY I AM, OF CULTURES NOT ORIGINALLY BELONGING (BY SOVEREIGN MUTUAL AGREEMENT OF ALL PARTIES) TO THE BLUE PRINT/PROGRAM, PRIME CREATOR'S INTENT STATING THAT ONLY PURE INCARNATIONS CYCLES WITH SOVEREIGN Mother Earth AND ALL HER LINEAGES, DENIZENS, REALITIES, DENSITIES, DIMENSIONS MIND HEART UNITY CONSCIOUSNESS, LIBRARIES, ORGANIC BIOLOGICAL PHARMACOLOGY ARCHITECTURE HAS ITS RIGHTEOUS PLACE HERE IN THE EVER PRESENT NOW. 5) IN THIS SOUL CONTRACT INVOCATION-REVOCATION I AM INDULGENT TO INVEST MY SACRED NEUTRAL RIGHT DEMANDING THE 4th/FORTH TRIMESTER GESTATION PERIOD BELONGING ONLY TO MY I AM PRESENCE BACKWARDS AND FORWARD, TO BE RETURN TO ME AT ONCE IN FULL. I REQUEST THE INFORMATION RELATIVE TO THE ABOVE TO BE BROUGHT TO MY AWARENESS IN ITS ENTIRETY. AND I RESPECTFULLY ASK YOU, Mother Earth /GAIA ASSIST ME PLEASE IJN MY QEUST TO RESOLVE WHT'S HAS BEEN MISSING THUS AFFECTING MY LEARNING, ALL MY PREVIOUS LESSONS LEARNED, THE GIFTS FROM SPIRIT THE SPIRIT WORLDS, THE SOUL FAMILY INCARNATIONS, AND MY SOUL FAMILY MEMBERS ALL FREE OF CHARGE OF NEGATIVE KARMA, ALL MY IMMUNITIES, AND FREE OF ANY VULNERABILITIES THAT HAVE CAUSED GREAT PAIN ACTUALLY. 6)  I REJECT/REFUSE THE ACCEPTANCE TO BE CONTINUED, OF INCARNATING PREMATURELY RESULTING IN DESPERATION OF BEING HELD VULNERABLE, CO-DEPENDENT ENDLESSLY ON A PARENTS WHO HAVE NOT THEIR BEST INTEREST AT HEART FOR ME, AND OR ARE ALSO SUBLIMINALLY POLLUTED, MISSING THEIR FULL DNA/RNA INFO, AND OR THEIR OWN 4th DIAMOND TRIMESTER!!!! The time capsule holding only 9 months gestation period in mother's womb is no longer acceptable to me. I withhold my consent to this notion/motion of such a grand theft and be silent about it. THE PHYSICALITY (Ph-light) is the confirmation that I am, it is the ability to have a vehicle full of densified Light. I ask YOU, MOTHER EARTH TO PLACE/WRITE RECORD MY INVOCATION/REVOCATION INTO THE EARTH AKASHIC RECORDS FOR ALL SENTIENCE TO KNOW OUR FREEDOM OF PRACTICING/EXERCISING FREE WILL AT ALL TIMES IS ESSENTIAL. AND SO IT IS. JARMILA THEA IN NO TIME AND IN NO NAME AS SOVEREIGN FREE WILL SOUL INCARNATE. NAMASTE.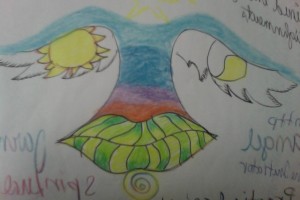 The following text is speaking of belief systems and the connection the our DNA/RNA STRANDS:
How "Belief systems" are etched to varieties of DNA?Is there a mutual co-dependence caused by soul less technology insertions? (This question stems from the info given by our Galactic historian stating that: 80 percent of our DNA is memory and 20 percent is programs/beliefs.) meaning without so called believes (is this the driving force to have experiences to evolve my DNA?) system my DNA wouldn't evolve? I don't personally feel it is so. While my DNA/activated holds all memory, while (lesser then>)the "belief system" is the stick, or poke?r? To guide or misguide me into a perception that maybe or maybe not keeping me on my true universal path to freedom.I keep questioning all beliefs spelled backwards 'BELIFE', if I can STRAIGHTFORWARDLY actualise my complete RNA DNA. QUESTION: Could auto portraits paintings (oil from different centuries) be a different version of time travel (function of covert teleportation device) and the person, would be able to step into our time line physically from their own self created portrait?
The second, third, etc. notion of inner thinking processes about each incarnation and how it is held by my awareness: each incarnation I can remember, (based on the activation of my DNA/RNA) retain and recognise is placed onto my spirit neckless (either around my spiritual neck and or hips) in 250.000 past cycles of incarnations that would be lots of crystals hanging around my physical neck however this is my sovereign purification rides of passage of handling and taking nutritious ways of actualising my DNA MEMORY, plus the long umbilical cord and its removal of cutting it on and on and on is now held my earth akashic records for remembering honouring of all my life's expressions and experiencing via blood, bone marrow, chakra system.
My other insights/teaching but it can be also a nonsense but I feel to be shared since this is my intuitive which allows me to do so: that may be connected to the above text about 12 months gestation period and also belief system:
the following is sacred notion. 
For my entire life, ever since one can remember, something about "the blue gene", that I have been pondering on and of on and of, "wondering" whether it might be real, and if yes, what it might be: it is basically presence/ arrival of a different universe that is not DNA based.
 And SOMEHOW I have been aware of this, say, possibility probability one that I know about. This other universe /spirit arrival presence  cannot be weaponised, prostituted, compromised, the birth and creativity,/creation doesn't use the model of DNA it is pure spirit that Gaia was secretly working on with few souls… just imagine beings free of DNA/RNA… This obviously doesn't mean that I am getting rid of my gene codes, I am only saying what I have been pondering for most of my life: and that is the blue gene. the application and reasoning behind having an open area of our planet to be the gene library is that it may have allowed the Prime Creator the greater opportunity to create beings/life free of stranding DNA/RNA. Let's just for a moment to take an usual approach for learning and or thinking differently. Let's say that because the DNA/RNA technology has been continuously manipulated, hijacked, abused, misplaced, stolen, genetically modified for millions of years, it might just be good inspiration to the Creative genius of Prime Creator to create something that is called pure biological life that doesn't need DNA strands. Nothing to be stranded on, and or by, nothing to be causing wars about. I don't think it is so far fetched for those who are aware of many different chakra systems which comes from the knowledge of 72 or 74 different founder species at the beginning of seeding this planet with organic life. At the beginning i am using the term: "it is pure spirit that Gaia and Prime Creator has been "secretly" working on with few other souls." It is this blue gene perhaps that I have been learning about internally via the indivisible light spectrum. Such a mouthful requires much further explanation, study and more journeying. The possible reader is always invited to question and put comments that are highly appreciated if relative to the text/"teaching". More updates coming. Namaste from TCSGuide, Jarmila.
The application