aloha beloved few for whom i leave messages here cause I know you will get it: I am going to refer to few acts in recent weeks, but always layered with frequency of pure light and high alchemy in between rows, to help transmutation and in many cases out-creating shithings what doesn't belong since it is not beneficial to dear life.
1.Agressive hostiles in 3D mater doing: things such as the cause of : (fires, use of radiation to cause enormous heat waves, using other technology to be sending diseases, bad mood swings, low mental thoughts, other fear porn) IS SELF DESTRUCTIVE.
2. Your strong suit is your DIVINE CONNECTION TO YOUR INFINITE SELF, PRIME CREATOR, TRUE LOVE,
3. ORDINARY HARMLESS HUMAN, HUMANITY STAYS PROTECTED SINCE IT IS UNDER THE NATURAL LAW ORDINATION PROTOCOL.
4. STAY WITHin YOU STILL POINT SACRED NEUTRALITY.
WHAT HAS BEEN RECEIVED FOR LAST SEVERAL WEEKS DURING MEDIATIONS AND ALSO MUCH HEALING WORK WITH DIFFERENT CLIENTS IS THIS: PURIFICATION/CLEARING OF THE SO CALLED TIME LINES, IN ORDER FOR US TO MAKE IT TO THE LINE WHERE WE KNOW WE LIVE, BREATH AND PROSPER IN OUR NATURAL KRYSTALINE NO- TIME, IS WE ARE STILL UNDERGOING AND VISCERALLY EXPERIENCING,WITNESSING THE MOST HORRIBLE SELF DESTRUCTIVE BEHAVIOUR EVER KNOWN. ("dates: this was last week, or last two weeks ago" today is September 21st, 2023 de facto) WE DO KNOW FOR SURE FOR FACT, THAT THIS IS CHANGING, IT NEEDS TO GO AND IT IS GOING. BUTs (the D. orders  ARE DOING AMPLIFICATION OF THEM SELVES IN THEIR OWN CREATED MADNESS, THUS SELF DESTRUCTING, CAUSE THEY HAVE TAKEN THEM SELVES OUT OF THE NATURAL LAW, THE 12 BASE TREE OF LIFE, made them selves 10 base grid falsity  GRID OUT OF THE ORDER OF UNIVERSE WHICH IS HARMONY, NOT A HARM CAUSING DAILY TO HOME=EARTH-PEOPLE. It is E.T. war on earth for long, and we need to stay calm and not in the middle.
IT HAS COME TO MY AWARENESS ONE OR TWO SUNDAYS AGO WHERE PEACE (peace has different layers!, And also structure and thus meaning ) this kind is of achieving no time crystalline nature of Mama Eartha (earthy) between the #number(s) 9 cross section to # 3. Explanation: take a round de facto clock, look at it, look where 9 is, then go to 12 then go to 3. O>K> that is the "west-north-east" line most importantly as it is still being clarified to me, number 9 represents the higher dimension actually9, number 12 is your silver higher self over soul and number 3 is this mess/computer game matrix the evolved souls exiting via their higher consciousness not necessary physically, but in your perspectives of accessing realities and true authentic memories. Right here at the #3 it is overlay!Where the Higher Self continues to be present and continues to fuel the body with purification of all system. The system thou have their own unique order of purification based on your own DNA protocol so yes, paying attention, FEELING always is best, THUS YOUR AWARENESS IS GROWNG. P.S.we need to take out all these "war" based words (again!)  please continue to create your own SOUL BASED UNIQUE DICTIONARY THAT IS home feeling.
The #3 is also: things are happening in 3 sets.
SO: your consent to certain events and without holding it is excellent intention practice within this chemical global computer matrix game!!
Having your own authority/control over your life is part of the above.
Connection (living daily active connection knowing where with whom/what you naturally belong that is:….be=long!!, Beloved Living Light, Original Loving Prime Creator, Pure Consciousness, say "aAAAh". You rely on you, trusted friends, soul family, do not rely on the "game" let them fall let them self destruct, I know they want to take you with them they want to take Mother planet with them, AND EARTH HAS MADE HER OWN UNIQUE PLANS, SHE TOO HAS HER SECRETS. and I am so glad to know Earth has secrets, She is smart.
and Here some fresh today and 2 snips from our group meditations (which all shall be posted in their respectful pages here to stay updated and compare notes with yours..)
so today is 21.09. 2023

and since the words are small I am re-writing them to readiable proportion. It says: the small picture represents my own depiction (not really here to be quessing if this is accurate or not, my Soul says it is so it is) of symbol as to how the old (centuries old) families such as the "da vinci" (it is a nick name for italian, japanese, russian families) who are still operational and are taking care of the rest of those we don't want here on planet. I am guessing (now) they have their own structure and the law of elimination if you don't do what we have agreed upon then you are out"….? referring to de facto nanny governments, and actors called presidents movie fallen stars, and other war business acts., the weather control and you may find more examples. Somebody send me a y.tube link. It is about deeply harmful energy emission through all electronics plan in october of the 4th and or the 11th (if the 4th will not go as planed, this is the bad behaviour idiots)the plan is to spread disease via computer, cell phone television, the instruction is to turn off these "devices" (this word also speaks volumes of its self). Again good people are working on preventing this from happening and the ……bad-ones repeating them selves by insisting on doing harm. Well That is what this y.tube channel is telling. My 1/2 second feeling was a reaction of anger. in PRINCIPAL: all such war operations against evolving healing, waking humanity are repeat repeat operations, distractions, even if this would take place, you already have in-build in you your own antenna for bullshit /harm causing operations and thus intuitively will know that on such and such day maybe you go fishing instead of being on your cell phone…The human who has learned, who is aware of this and tries to warn people is also usually not saying: .."regardless human you are in control of your thoughts, how you feel, what you thing, what you choosing you are fully in your body connected to your Higher Self, grounded, So my 1/2 second anger was there simply because I really want to see people being in the krystaline earth enjoying them selves, as if on life long vacation, and this "END" is very very long, prolonged. We are learning (?) that those centuries long families that also have played dark but have apparently so "higher morals" are fighting the zealots idiots who never understand the word "NO" we don't want you here !!!, giving them ultimatum and expire date. And when your Soul recalls these same times before, it becomes way too long. The next layer: i had an experience that was NOT pleasant due to the work i was doing to help somebody that really need it. Brief description: the military use of sonic waves, eco locators vibrational frequency that can lift you out of your own body and take you somewhere else for who know what. I did't let this happen thou. I woke me up at 1:30 in the morning upon feeling this strange wave and shook my body to wake up and yelled "NO". I didn't sleep for the rest of the night, was meditating. It is shared because it is happening, it can be for good reasons and or nefarious. I wasn't waiting for an explanation, but the next day/night apology arrived. The reason why I am sharing this is because similar types may be used to cause earthquakes, and or weather control, is what this makes me think of. So how it is being used such technology is discerning element is how the innate feeling response to stimuli. Self healing, energy awareness thank you thank you.
Next layer: Yesterday it has done on me that we have lived and died so many F.times (thousand upon thousands lives), that we are practically soon facing our own eternity. (picture: i saw the lives and deaths speeding up so fast it became yo-yo, then faster like a swirl, so funny as if all lives came into one centre or into the zero point finally to calm down) The other side effect of all these past lives could be feeling that the incarnations were principally a game, mis use of technology against you this also may be correct. So sumarize it now we may have inner-standing a little more about how your innate High Alchemy may work to lead you upward and forward to living authentic life of Original Prime Creations, learning a greatest and amplified deal about the psychology and psychiatry of the very sick race of  aliens who tragically reduced them selves to reduce humanity and because there is nothing can be done, they will go home as DUST which takes many billions of years. I want to end on this note: Brain has very unique process of self-inquiry and seeking self efficiency and cultivation to achieve the best quality life possible, through the ability to learn. There is never enough learning.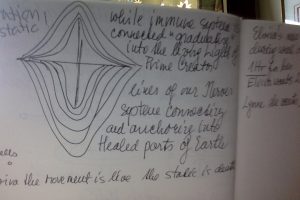 Peace to you.